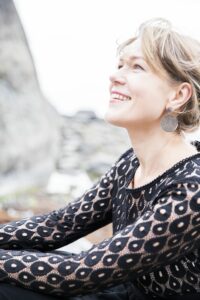 Inese Klotina, pianist
Foto © 2022 Tina Axelsson
Inese Klotina inledde sina pianostudier på Emils Darzins Musikskola i Riga, Lettland, då hon var sex år gammal. Hon fortsatte sina studier på Lettiska Musikademin i Riga, Guildhall School of Music & Drama i London samt Kungliga Musikhögskolan i Stockholm.
Inese Klotina har tilldelats ett stort antal stipendier och priser vid internationella pianotävlingar. Hon är flitigt anlitad som solist, kammarmusiker och ackompanjatör med framträdanden i Sverige och utomlands. Sedan 2011 är hon anställd på Kungliga Operan i Stockholm som repetitör.
Senast uppmärksammades hon  i april 2022 för sin tolkning av Rachmaninov's pianokonsert Nr.1  tillsammans med Kungliga Hovkapellet på Operans stora scen.
Hennes tolkningar av Bach, Beethoven och ryska romantiker har mottagits varmt av såväl publik som kritiker, bland annat hennes inspelning med pianomusik av Nikolaj Medtner (Nikolai Medtner Piano Works, Iliad records). Inese Klotina är en återvändande pianist  till Sommarmusik på Lundsberg.
---
Inese Klotina began to study the piano at Emils Darzin's Music School, Riga, Latvia, when she was six years old. She continued her studies at the Latvian Music Academy, the Guildhall School of Music & Drama, London, and Kungliga Musikhögskolan (KMH, Royal College of Music), Stockholm.
Inese Klotina has been awarded several scholarships and many prizes in international piano competitions. She has a busy carrier as soloist, chamber musician and accompanist, performing both in Sweden and abroad. Since 2011, Inese is employed as répétiteur at Kungliga Operan (Royal Swedish Opera), Stockholm, where in April 2022 she performed a much acclaimed interpretation of Rachmaninov's Piano Concerto No.1 together with the Royal Swedish Orchestra on the main stage of the Royal Opera. 
Her interpretations of Bach, Beethoven and the Russian romantics have received a warm welcome by her audiences as well as by the critics, as is the case of her recording of Medtner's piano music (Nikolai Medtner Piano Works, Iliad records).
Inese Kotina is a returning pianist to Sommarmusik på Lundsberg.